At ISU International Adult Figure Skating Competition 2017 in Oberstdorf (Germany), we had an opportunity to speak with Norris Choi, the coach of Team Bauhinia from Hong Kong. Let's hear what Norris shared about his team.
Was this your team's first time participating in an international synchro competition?
Norris Choi: Yes, indeed this was also the first time we competed in a synchro event.
Can you share with us your team's history?
Norris Choi: We are a very young team. We started having the idea of a synchro team in late 2016 and formed our team in January 2017. It was a very short period of time from forming the team to coming to Oberstdorf.
And about the composition of your skaters?
Norris Choi: We have 15 skaters, among them 3 were male. They ranged from lowest limit for adult category (25) to 50s.
What motivated you to form a synchro team, which was something never done in Hong Kong before?
Norris Choi: Our team members showed keen interest doing so. It was very refreshing to us since there was no synchronized skating in Hong Kong. At first, skaters were not sure how to begin, but I had some experience in skating synchro.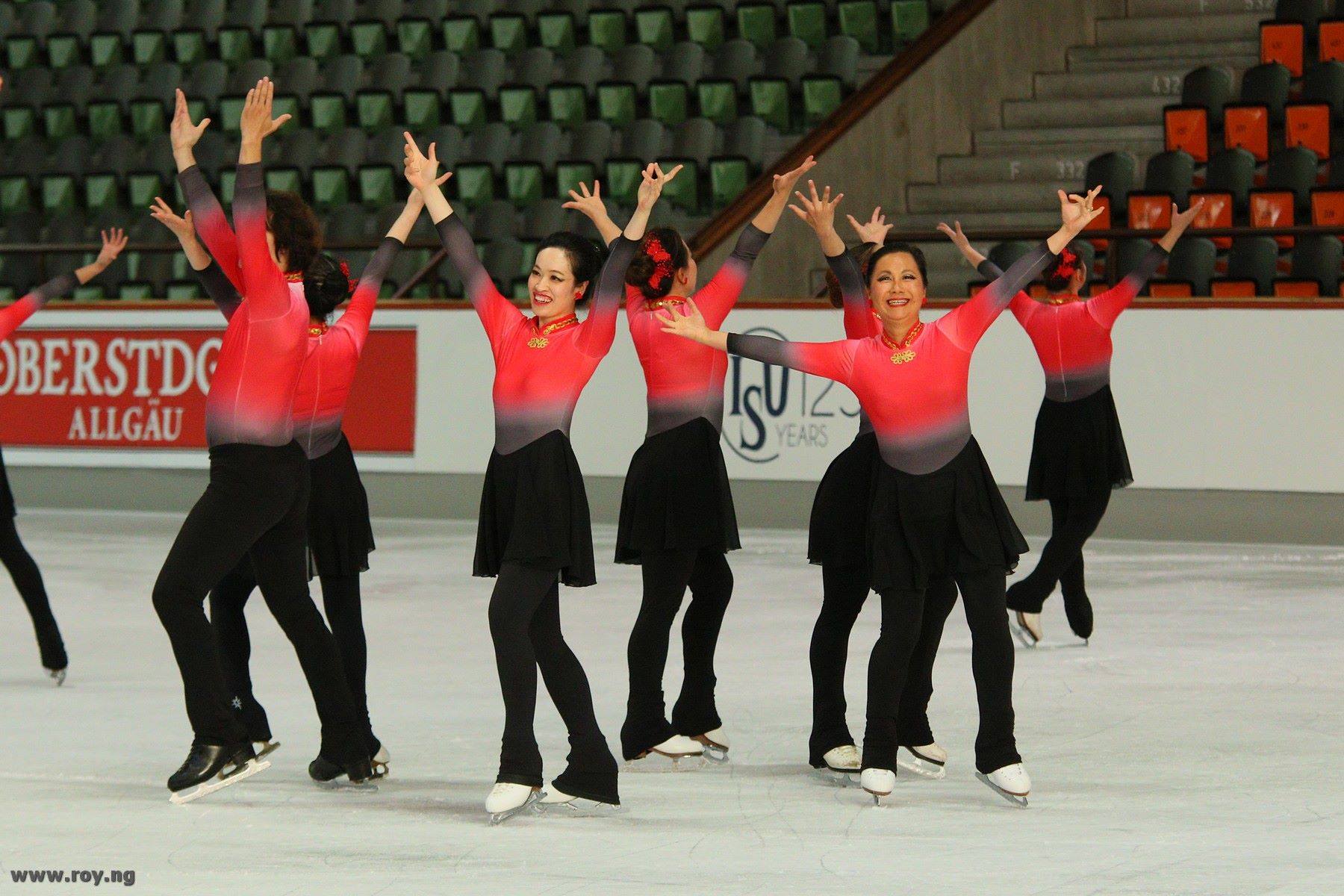 Skaters of Team Bauhinia have presented their program for the first time in Germany and finished 6th. /Credits: Roy Ng Photography
What were the difficulties doing synchro in Hong Kong?
Norris Choi: Ice time. We had very little time available on ice. All rinks in Hong Kong are operated commercially so they have their own business interest. While we were fortunate enough to be able to secure a deal with a local ice rink, we could only get one hour per week because we formed our team late. Also, that rink was smaller than standard, and that placed limitation during program planning and practice. Eventually, we found larger ice but we could only skate there a few times. Hong Kong Skating Union has been very supportive all along and we hope we can mitigate these problems in the future.
Is there any plan for the next season?
Norris Choi: Some skaters have expressed their interest, but Oberstdorf is far away from Hong Kong. Some of the skaters are skating coaches and they have their own commitment. Forming a synchro team is a new idea in Hong Kong, so it takes time to build and develop a team. Well, the key issues are to secure ice time and form a core team. I think adult synchronized skating is a good platform for introducing synchro in Hong Kong. Hong Kong Skating Union has been helpful in providing opportunities to showcase synchro to Hong Kong people.
I hope to see synchro grow in Hong Kong. Perhaps one day we will see novice, junior and senior skaters.
Norris Choi: That will take time. In many countries skating is club-based which they can form teams by clubs, but in Hong Kong skaters come from different ice rinks which may not facilitate the development of this sports.
Thanks Norris for taking his time to share with Jura Synchro's audience. It is energizing to see new teams being formed in different parts of the world. Although we speak different languages, it is the very same passion for synchro that brings us together and defies all challenges. I hope to see Team Bauhinia grow and participate more in international events.
Roy Ng, Jura Synchro correspondent